Closer Together - Day 10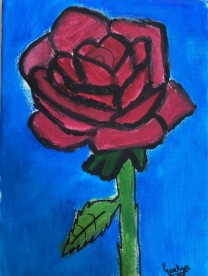 Day 10 - Evelyn 7 Junior

I have chosen to do this painting because painting is a very relaxing thing to do.
A rose is a symbol of love, the single leaf represents hope and the background is blue which means peace. These three words are very meaningful to me at this tragic time because the words are a big part in our lives.
Closer Together - Day 9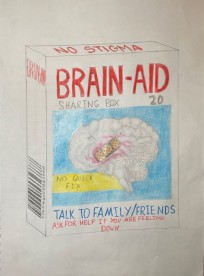 Day 9 - Kasia IV Senior
The cause that I chose was mental health awareness. This is important during the Covid 19 lockdown and at all times. Many people suffer from mental health conditions and don't always talk about it or show visible signs. Sharing your feelings with family and friends and taking the time to talk them, may reduce some of the burden that you are feeling. During this crisis people are feeling stressed and anxious about health, loved ones and their jobs or school to name only a few of the worries that people face in these uncertain times.
Closer Together - Day 8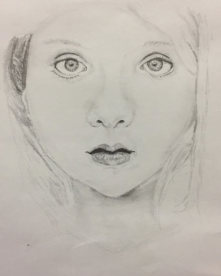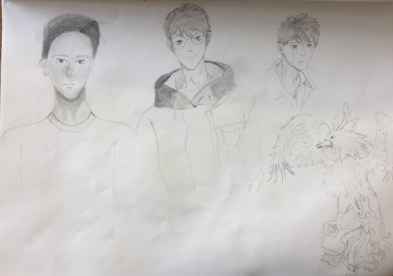 Day 8 - Jyothi VI Senior
During this lockdown, I have been practicing more art. Drawing art is enjoyable and is important to me so these recent drawings I've sent are what I have managed to develop during this lockdown. Also, during this time, some friends and I have decided to try and create an animation (it may take months) but this opportunity has allowed me to develop skills in my area of interest and I would like to continue my passion for art. As for the drawings, they don't really have much meaning by themselves, it is the act of drawing that is meaningful to me.
Closer Together - Day 7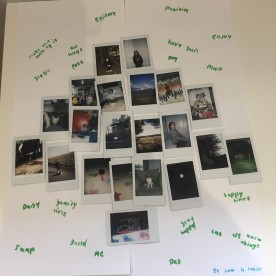 Day 7 - Lara 4 Junior
Lara has created a collage of photos she has taken during lockdown.
Closer Together - Day 6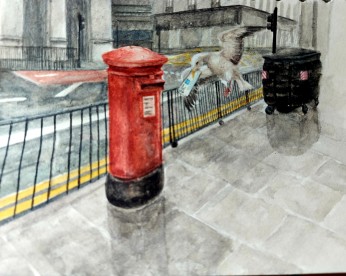 Day 6 - Katyayeni VI Senior
My chosen cause is writing letters. Over the quarantine period, we have all been well connected through social media and video calls which are now part of our daily routine. This is an efficient and instantaneous way of communication. However, being isolated from everyone has reminded me of the excitement behind the process of writing and receiving a letter.
Handwriting a letter takes time and effort. Unlike a text, you think about what you're writing and make it special. It can be kept forever and maybe looked back at once the quarantine period is over. Letters take a few days to be delivered and that anticipation is what makes the whole thing so exciting. Of course, we text each other when we receive or post these letters (one might argue that this defeats the purpose of writing physical letters) but getting detailed life updates, stories, or drawings from friends in the post is great!
Closer Together - Day 5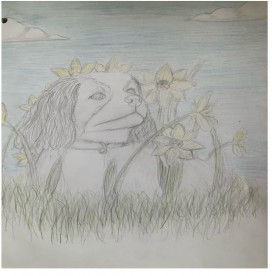 Day 5 - Weronika 111 Senior
Lockdown showed me how to appreciate things more which we didn't appreciate as much before it. Through lockdown my dog was really sick and had to go to an emergency vet. There they had to fight for his life, but because of the virus we could not be there with him and the worst thing was that if he died, I wouldn't have been able to say goodbye. At this moment, this showed me another side of the lockdown and how terrible it is for people who cannot be with their close ones who are in hospital. And now every little thing he does makes me happy like him sitting in flowers which is the thing I drew to show something that is closest to my heart.
Closer Together - Day 4
Day 4 - Safiya 5 Junior
Luna is close to me because she is beautiful and funny. She makes me feel happy and gives me company when I can't see my friends. I remember when she first saw bubbles!
Closer Together - Day 3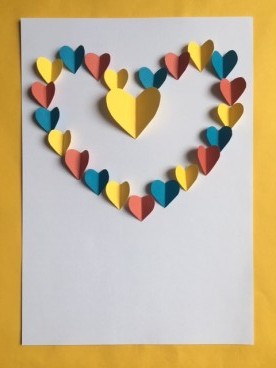 Day 3 - Ellen 11 Senior
The cause I have chosen is Children 1st as this charity is working very hard right now during the coronavirus pandemic, to protect vulnerable children from harm.
My collage has a heart motif as Children 1st puts children at the heart of everything that they do.
Closer Together - Day 2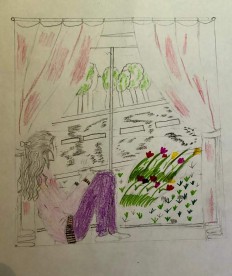 Day 2 - Misha 5 Junior
I have drawn this because animals from the jungle have been found on streets in cities, so, I drew a girl looking out of the window, gazing at this new world around us during the Covid-19 lockdown.
Closer Together - Day 1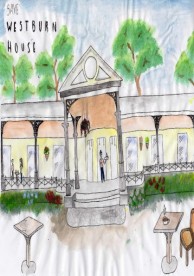 In conjunction with our 'Closer Together' competition with St Margaret's we will be posting a photo each day for the next 10 days showing the fantastic work by the girls.
Day 1 - Harriet VI Senior
Every day on my daily walk I pass the ruined westburn house in the park, and I had heard that a group was being set up to restore the house to its former glory. I decided to paint the house restored as a cafe, which I think would encourage more people to go to the park regularly, as it would create a wonderful little spot in the park for people to meet up.
Mental Health Awareness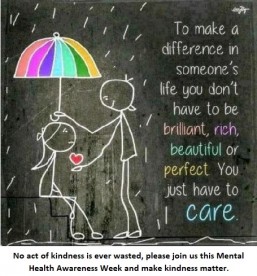 The mental health and wellbeing of our staff and personnel locally and across the world are of paramount importance to us.
#mentalhealthawarenessweek #bekind #kindnessmatters
Closer Together Competition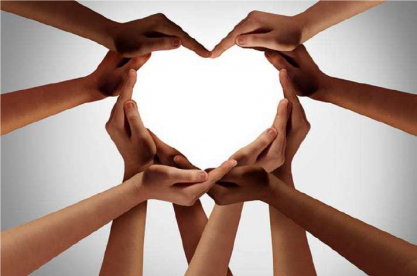 Tulloch Recruitment and St Margaret's are running the 'Closer Together' competition for St Margaret's pupils of all ages to keep spirits high throughout lockdown. Girls were asked to create a painting, model, piece of artwork or drawing which represents a cause close to their hearts.
Winners will have their work featured on our website.
Look out for the girl's creative ideas in the coming weeks.
Supporting Local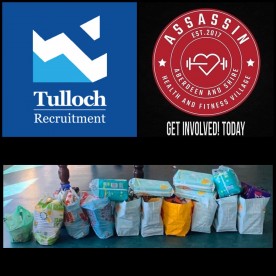 Tulloch Recruitment is proud to be supporting the local community by making a monthly donation to Assassin Health and Fitness food bank.
Lee and his team of volunteers are doing a fantastic job and have helped over 300 families so far by providing them with essentials.
If you would like to make a donation, please contact Assassin Health and Fitness for drop off locations. #staysafe #supportlocal #2020
Thank You NHS Scotland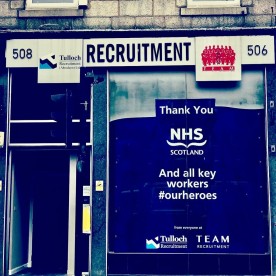 Tulloch is proud to support our NHS Heroes near and far saving lives while selflessly putting their own at risk.
To all our clients, staff and workers we thank you all for your support in these challenging uncertain times.

Stay safe, shop local to support our communities, be kind, be proud of the work you do, the person you are and the differences we can make.
We are supporting Assassin Health and Fitness Village food bank and are happy to collect donations. If you would like to donate please call our office on 01224 625097 and one of our team will discuss drop off points.
#staysafe #weareallinthistogether #2020
Cash For Kids - Mission Christmas
Tulloch Recruitment is proud to be supporting Northsound's Cash For Kids - Mission Christmas for another year
Apache North Sea witnessed net production growth in Q3
Apache Corporation's North Sea operations saw production increase in the third quarter.
First Minister hails new innovation hub a "milestone" in North Sea recovery
Nicola Sturgeon has hailed the opening of an innovation hub for the oil and gas industry as a "real milestone" in its recovery.
Wood Group and Amec merger plans approved by CMA
Regulators have accepted proposals by Wood Group and Amec Foster Wheeler to address competition concerns over their planned £2.2bn merger.
UK North Sea Oil Field Startups Surge to 10-Year High
The U.K. North Sea is on track for the biggest year of oil and gas field startups in a decade, continuing the aging province's surprising resilience to the crude-market slump.
Altrad's takeover of Cape gets UK competition watchdog's blessing
French group Altrad said today that its takeover proposals for industrial services giant Cape has satisfied the UK competition watchdog.
Recruiter's FAST 50
Delighted to be included in the Recruiter's FAST 50 ranks, the fastest-growing private recruitment businesses in the UK according to annual sales growth over the last few years.
Company Recognition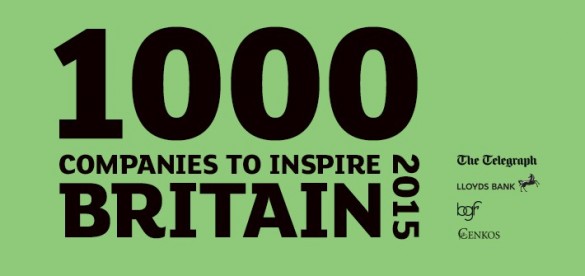 Delighted to share the news of our inclusion in London Stock Exchanges top 1000 companies – showcasing the UK's most inspiring and fast growing small and medium sized companies
Tulloch Recruitment have shown positive growth in revenue over the last four years, have significantly outperformed their sector peers and are pleased to be recognised in the report.
Brent crude oil hits 2015 high as U.S. output slows
(Reuters) - Oil rose more than 3 percent on Thursday, pushing Brent crude to a 2015 high above $63 per barrel on increasing evidence that U.S. production is peaking, moving to balance a market that has been in heavy oversupply for more than a year.
Bank of Scotland: most oil firms 'upbeat on growth'
Most North Sea oil and gas companies are planning for growth this year despite the fall in the price of oil, according to a report.
Oil & Gas UK asks for Permanent Changes to Tax Regime
At yesterday's meeting with Shadow Chancellor Ed Balls and his team, Oil & Gas UK has underlined the urgent need for regulatory and fiscal reform and improvements in cost efficiency to restore the international competitiveness of the UK oil and gas industry.
Register your CV with TULLOCH today
We are currently recruiting for experienced Yard Labourers in the Aberdeen Area.
'No apocalypse just yet,' says KPMG's top Oil and Gas Man in Aberdeen
The four horsemen of the apocalypse are not about to show up in Aberdeen but Europe's energy capital is facing a serious downturn" in its fortunes, an oil and gas expert said last night.
Talks with George Osborne encourage offshore leaders
Leaders from the offshore oil and gas industry said they were ''encouraged'' after meeting Chancellor George Osborne to discuss the sector's future.
Tulloch Recruitment Sponsor Westhill Primary
Tulloch Recruitment are delighted to be sponsoring Westhill Primary School P3's football team this season.
Tulloch Recruitment Staff Donate To Northsound Mission Christmas
Staff show their support for local Appeal
Tulloch Recruitment Sponsors Beatson Cancer Charity Golf Tournament
Tulloch Recruitment Ltd's new Quality Management System achieved ISO 9001:2008 Accreditation!
Tulloch Recruitment Ltd's new Quality Management System has been fully accredited to ISO 9001:2008, demonstrating the continued service quality produced by the company across all function of the business, for more information please click on ISO 9001:2008
ABERDEEN RECRUITMENT GROUP PLEDGES £25,000 TO LOCAL CAUSES
New Website Launched
The new Tulloch Recruitment (Aberdeen) Ltd website is now live.