Looking to recruit?
See how we
can help
Get more info
Candidates!
Why register with Tulloch?
Take me there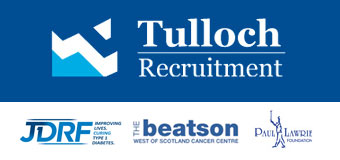 Proud sponsors of
the local community
One of Tulloch Recruitment's overarching values is based on our senior managements belief that the company has a responsibility to support the community in which it operates and as such we actively support various community initiatives and charitable foundations.
Latest News
Day 10 - Evelyn 7 Junior

I have chosen to do this painting because painting is a very relaxing thing to do.
A rose is a symbol of love, the single leaf represents hope and the background is blue which means peace. These three words are very meaningful to me at this tragic time because the words are a big part in our lives.

Day 9 - Kasia IV Senior

The cause that I chose was mental health awareness. This is important during the Covid 19 lockdown and at all times. Many people suffer from mental health conditions and don't always talk about it or show visible signs. Sharing your feelings with family and friends and taking the time to talk them, may reduce some of the burden that you are feeling. During this crisis people are feeling stressed and anxious about health, loved ones and their jobs or school to name only a few of the worries that people face in these uncertain times.

Day 8 - Jyothi VI Senior

During this lockdown, I have been practicing more art. Drawing art is enjoyable and is important to me so these recent drawings I've sent are what I have managed to develop during this lockdown. Also, during this time, some friends and I have decided to try and create an animation (it may take months) but this opportunity has allowed me to develop skills in my area of interest and I would like to continue my passion for art. As for the drawings, they don't really have much meaning by themselves, it is the act of drawing that is meaningful to me.