Looking to recruit?
See how we
can help
Get more info
Candidates!
Why register with Tulloch?
Take me there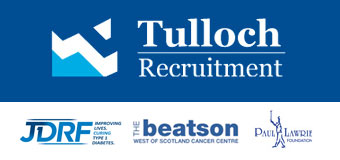 Proud sponsors of
the local community
One of Tulloch Recruitment's overarching Values is based on our senior managements belief that the company has a responsibility to support the community in which it operates and as such we actively support various community initiatives and charitable foundations.
Latest News
Delighted to be included in the Recruiter's FAST 50 ranks, the fastest-growing private recruitment businesses in the UK according to annual sales growth over the last few years.

Delighted to share the news of our inclusion in London Stock Exchanges top 1000 companies – showcasing the UK's most inspiring and fast growing small and medium sized companies

Tulloch Recruitment have shown positive growth in revenue over the last four years, have significantly outperformed their sector peers and are pleased to be recognised in the report.

Brent crude oil hits 2015 high as U.S. output slows

(Reuters) - Oil rose more than 3 percent on Thursday, pushing Brent crude to a 2015 high above $63 per barrel on increasing evidence that U.S. production is peaking, moving to balance a market that has been in heavy oversupply for more than a year.